OpenVPX is an architecture framework that defines system level VPX interoperability for multi-module integrated system environments. It is a part of VITA standards (VITA 46/65), VITA 46 is a VPX backplane's standard and VITA 65 is for embedded computing systems.
The OpenVPX is a defined set of system implementations within VPX, defining a set of system architectures and providing a framework for interoperability between modules and backplanes. With OpenVPX, system integrators can more readily architect an application specific system based on compatibility OpenVPX profiles for modules, backplanes and development chassis.
The fast of OpenVPX
OpenVPX builds on VPX dot specs for fabric protocols, so it is the same speed as VPX, currently supporting up to 3.125 Gbps/pair with plans to support up 6.25 Gbps in the near future for PCIe and SRIO.
Slot profile
An OpenVPX slot profile is a physical mapping of ports onto a given slot's backplane connectors. These definitions are often made in terms of Pipes. Unlike module profiles, a slot profile never specifies protocols for any of the defined ports. Profile parameters are used to further describe properties of a slot profile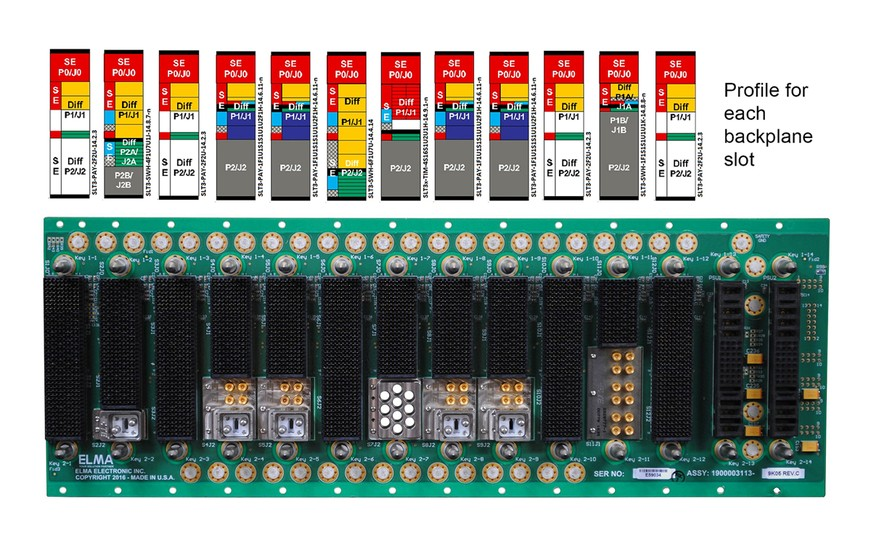 Module Profile
An OpenVPX module profile is a physical mapping of port onto a given module's backplane connectors and protocol mapping, as approptiate, to the assigned port. This definition provides a first-order check of operating compatibility between modules and slots as well as between multiple modules in a chassis. Profile parameters are used to further describe properties of a module profile.
OpenVPX Backplane
The backplane profile of OpenVPX is a physical definition of a backplane implementation that includes details such as the number and type of slots that are implemented and the topologies used to interconnect them. Ultimately a backplane profile is a description of channel and buses that interconnect slots and other physical entities in a backplane. Profile parameters are used to further describe properties of a backplane profile.
Pipes used for OpenVPX
There are different pipes used for OpenVPX. These are physical aggregation of differantial pairs used for a common function that is characterized in terms of the total number of differential pails. A pipe is not characterized by the protocol used on it. The pipes used for OpenVPX are :
UTP : Ultra Thin Pipe
TP : Thin Pipe
FP : Fat Pipe
DFP : Double Fat Pipe
QFP : Quad Fat Pipe
OFP : Octal Fat Pipe
Conduction Cooled Hardware
A popular OpenVPX card style is the conduction cooled module. These are used mainly in military and aerospace applications where convection cooling cannot be used. These allow heat to conduct through the PCB or through a conduction plate on the module. Expanding wedge locks then transfer the heat out to the chassis through wide slots cut into the metal chassis sidewalls.
Conclusion
At the end stage of this article, you noticed that the openVPX standard (AINSI/VITA 65) is especially used in military and aerospace field. Due to its flexibility, it is much more advantageous compared to other systems. Thanks to slot types that openVPX has, it allows users to insert in the system, according to the application needs, the storage, the payload/peripheral, the switch and timing modules. Thus, all the modules quoted have specific roles. For example, timing module inserted on the backplane allow to manage the timing and frequency distribution of the systems. Furthermore, the payload/peripherals modules serve to provide the functions that the users want to have in the system. The functions could be : ethernet communications, A/D signal processing, image/video processing, etc.
To conclude, the openVPX specification is for all those who are interested in the ANSI/VITA standards. They are not for free and they are available for purchase from VITA at https://vita.com/secure/online-store.html